Herculanem Tour: another amazing Ancient town
Herculanem, like Pompeii, was a Roman town buried by mud and ashes from the Volcano Vesuvius explosion in 79 AD. You will walk through the original streets and visit houses, baths and much more!
The 2.5-hour walking tour of Herculaneum is a trip back in time. In 79 AD, Mt. Vesuvius erupted, burying Pompeii and its lesser-known neighbor, Herculaneum. Hidden beneath 60 feet of ash, it was first excavated in the 18th century and is now a World Heritage Site under conservation.
Imagine strolling through ancient rooms still adorned with colorful mosaics and frescoes that survived beneath the mud and ash for all these years. The sprawling community of seaside villas is a testament to the opulence of Roman days gone by. Enjoy spectacular sights like the House of the Mosaic Atrium, the House of Neptune and Amphitrite and the House of the Deer. Continuing on our walk we will visit the Decumanus, the Palestra, the Basilica and the Thermal Baths of the Forum.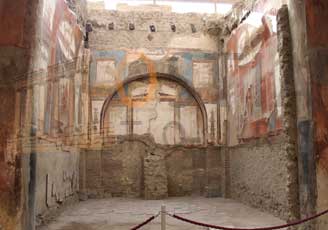 Guided by a native who speaks fluent English, you will learn the history of this fascinating historic city, its inhabitants and their lifestyle. See actual wood furnishings and architectural elements remarkably preserved through natural carbonization. Imagine the fateful day when time stood still for a vibrant people who had thrived successfully by the sea. Today's modern town, Ercolano, sprawls around the archaeological excavations of its ancient predecessor. Conservation efforts are on-going, as such sites provide an invaluable living history museum for generations to come.
Make the Herculaneum Walking Tour a must see when in Italy. Wear comfortable shoes for irregular terrain and shade protection for the 100º f heat of summer. Experience the juncture of past and present in this tangible remnant of the early Roman Empire.
---
Other Tours
---