Ostia Tour: a journey back to the Roman Empire
This tour is led by a fun, informative and local tour guide that speaks great English and is top-rated online with dozens of raving reviews.
Ostia Antica was the the harbour city of ancient Rome, which is approximately 30 km to the northeast. Ostia is Rome's best preserved seaport, but, due to silting and a drop in sea level, the site now lies 3 km from the sea. The site is noted for the excellent preservation of its ancient buildings, magnificent frescoes and impressive mosaics.
This Ostia Antica tour offers you a live experience of Ancient Roman city life. We will trek the same ancient streets that were once bustling with sailors and merchants from all corners of the Roman Empire. Our guide will bring to life the history of the crowded taverns, baths,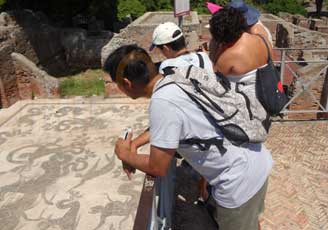 theatres and apartment buildings that remain intact today.
Ostia Antica is conveniently located near Rome and offers a less crowded, more serene atmosphere than the Eternal City. Similar to Pompeii, the ruins of Ostia Antica are spread over a large geographical area and unveil the intricacies of early Roman life.
Our guide will take you to the most interesting sites and show you the ancient graffiti, mosaics, frescoes of this critical harbor city. Ostia Antica reinvented itself over time, eventually becoming a urban escape for wealthy Romans.
You will discover the ingenuity of ancient times: the story behind communal latrines, an ancient fire department and numerous public baths. This itinerary includes the Necropolis, the Republican Warehouses, the Baths of Neptune, the Theatre, the Square of the Guilds, the Mills, the Latrines, the Laundries, the Restaurants, the Forum, the Patrician Houses, the museum and much more. You will love this tour! Guaranteed!
---
Other Tours
---