Rome by Night Food and Cultural Tour
Attention lovers of antiquity and ethnic foods! This four-hour historic walk and dining excursion will introduce you to the Campo Marzio neighborhood, the oldest Roman district, its restaurants and celebrated sites.
Imagine the sun setting and the monuments beginning to glow as dusk gives way to night. The crowds have thinned and it's time for an evening tour of the memorable sights and flavors of beloved Rome. A native guide who speaks impeccable English will meet you in the Jewish Ghetto and whisk you off to seven dining destinations interspersed with visits to renowned sites including the Theatre of Pompey where Julius Caesar was murdered, Piazza Navona, Campo de' Fiori, and Piazza Farnese. We'll visit the Theatre of Marcellus, Temple of Apollo, Portico of Octavia, the Jewish Synagogue, Pantheon, National Assembly and Senate House.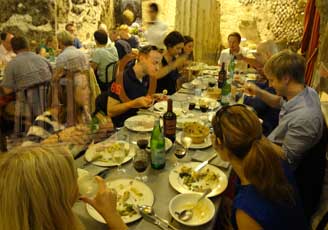 Your guide will escort you through nooks and crannies of the city you've never imagined, revealing lively trattorias replete with gourmet specialties and wines to enchant your palate.
Dining and touring, you will leisurely wander the squares of the "Eternal City." From pasta and pizza to a variety of local fish, meat and vegetables, you will appreciate the splendid array. Recipes handed down for generations have afforded Romans a rich and varied food culture.
It is recommended that you take The Evening Food Tour on your first night in Rome. Hundreds of sightseers before you have found it to be one of their most enjoyable and informative Italian experiences.
---
Other Tours
---